Abir Nehme in Swedish tour
081031
Day One:
After the board of Telelumiere Sweden received her at the Arlanda airport, miss Abir together with the team of Telelumiere Lebanon accompanied by the board of the Telelumiere in Sweden went to the Lebanese restaurant of Barouk where they had the chance to get to know our great star.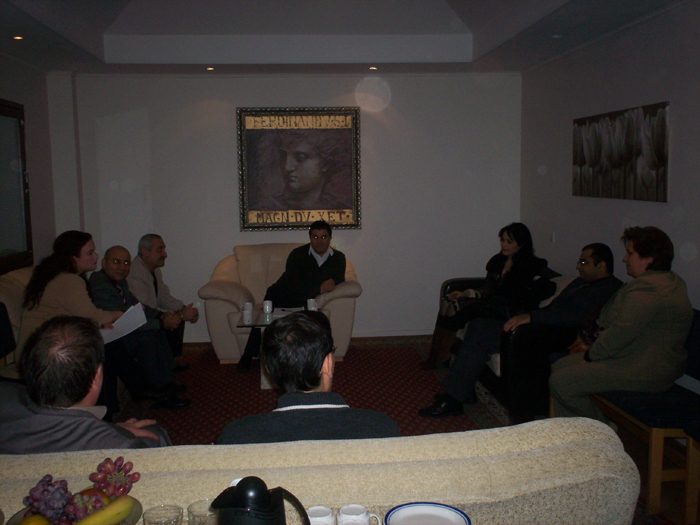 SUF, ArDO and Abir Nehme at Suryoyo Sat buillding
Later that Thursday evening Miss Abir had a TV interview on Suryoyo Sat in the Maya Mourad show called ´´Spotlight´´. Together in the interview there were the head of Telelumiere in Sweden Mr. Joseph Saouk and the Middle East Consultant Mr. Roni Doumit.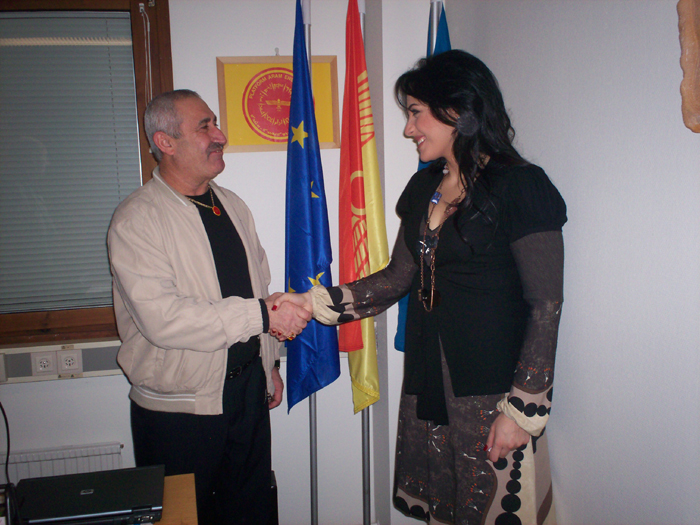 Head of ArDO in Sweden Mr. Gabi Gallo and Miss Abir Nehme at the ArDO headquarter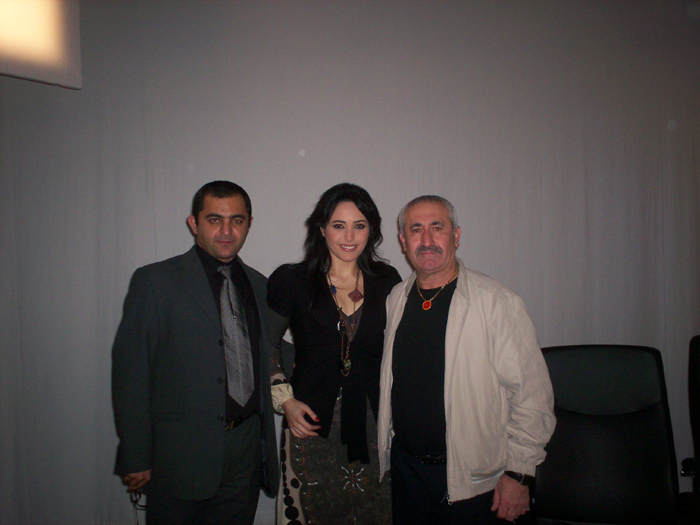 Roni Doumit, Abir Nehme and Gabi Gallo
The Aramean Democratic Organization in Sweden had the pleasure to meet this Aramaic church singer from Lebanon later that evening at it's headquarter in Södertälje.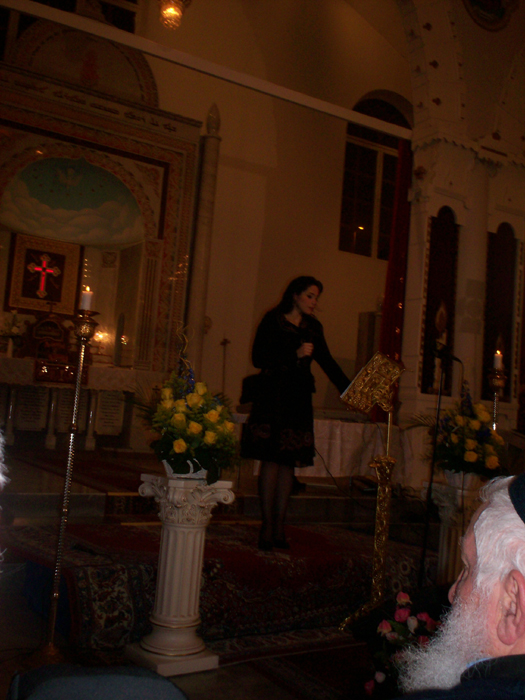 Abir at St Petrus and Paulus Church in Hallunda
Abir is a special friend of ArDO and is spreading the message of our people through her voice. We called all our fiends to attend her concert in St Paul and Peter church in Hallunda, Sweden on the 26th of October. All profits from the concert went directly to our beloved Christian TV station, Telelumiere/Nour Sat.
Day Two and Three:
The Teams went to Trollhättan in Southern Sweden for a concert that was of great success. After sleeping in the town the teams together with Abir drove back to Stockholm and had some time on Saturday to see Stockholm by night and meet more Lebanese and Christian Middle Eastern people.
Day Four:
This day was a very special day for many people. Abir had a concert in St. Petrus and Paulus in Hallunda Syriac Orthodox Church. The Church was full of happy enthusiastic Syriac Aramean organizations and individuals. Abir Nehme didn't let anyone down and delivered one of the best concerts ever arranged for the Aramean/Syriac Diaspora in Sweden. Abir got blessing words from the highest priests and intellectuals among our people in Sweden.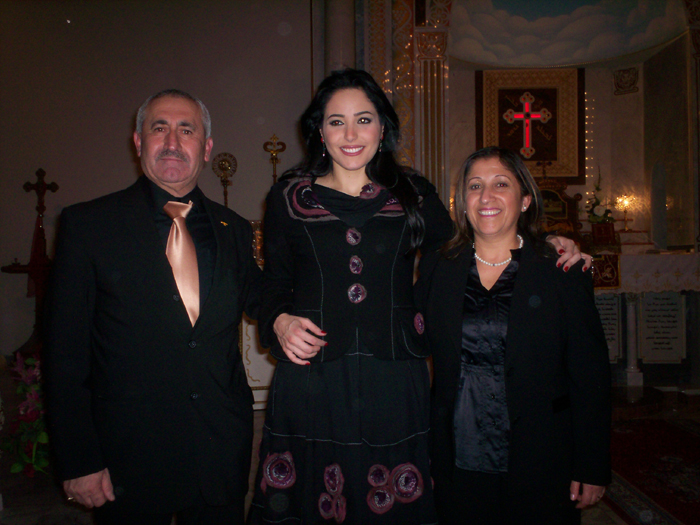 Gabi Gallo, Abir Nehme and Noura Gallo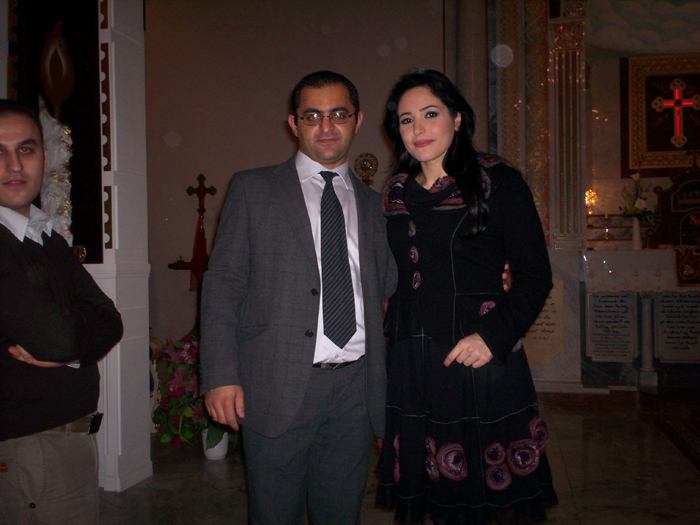 The children of the village of Tannourine: Roni Doumit and Abir Nehme
Day Five:
Abir was invited to a dinner arranged by the Syriac Youth Federation and the Aramaic Democratic Organization. During the dinner Mr. Habib Dilmac honoured our star with a supporting word and handed over the emblem of SUF and the flag of the Aramean.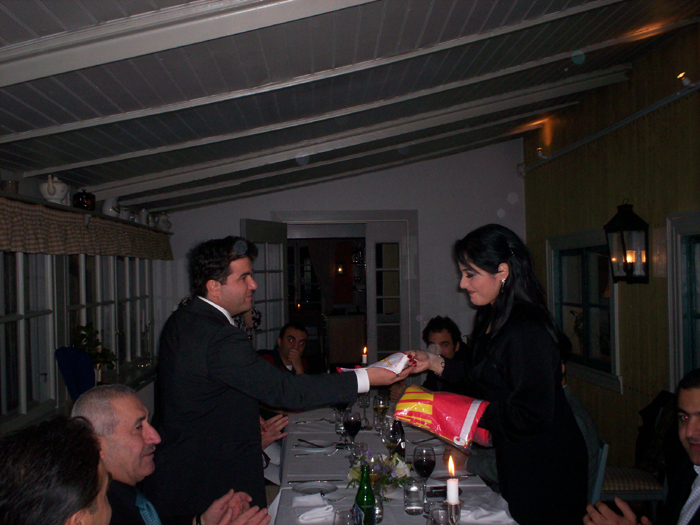 Habib Dilmac of SUF and Suryoyo Sat honour Abir Nehme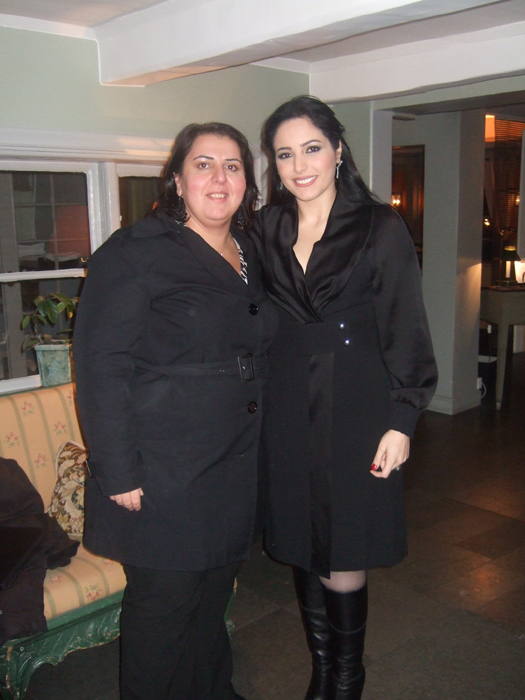 Arzu Alan and Abeer Nehme
Mr. Roni Doumit from ArDO had also an honouring word to our great sister Abir and handed a diploma to her showing all support for her choices in the Music world. ArDO choose Abir Nehme as a member of honour for life time.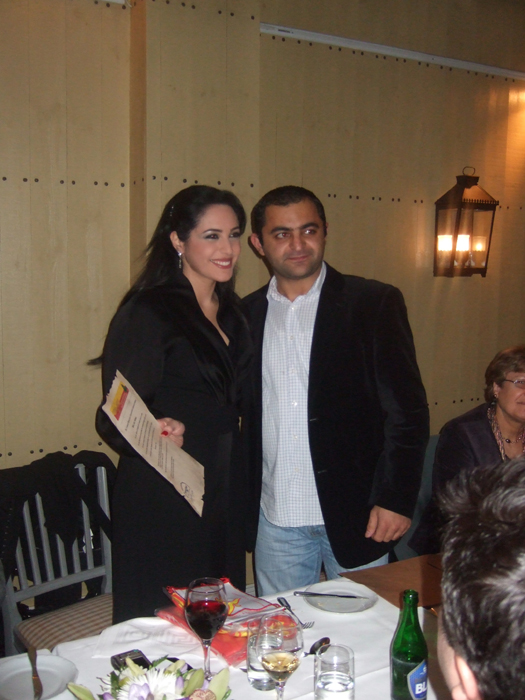 Roni Doumit Hounours Abeer Nehme in the name of ArDO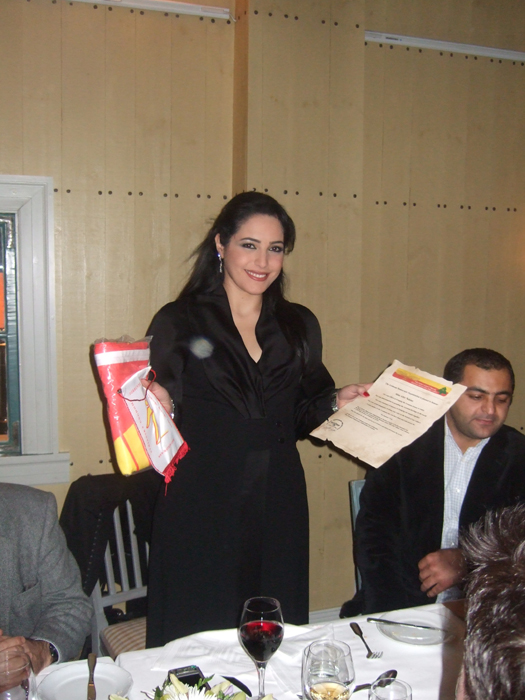 Abeer Nehme is happy to receive the prices of SUF and ArDO
Like everything nice, this trip also had to end.
Abir and the crew of Telelumiere took the plane back to Lebanon with a great feeling of finding a new family in Sweden and leaving many people in the coldness of Sweden with tears in their eyes.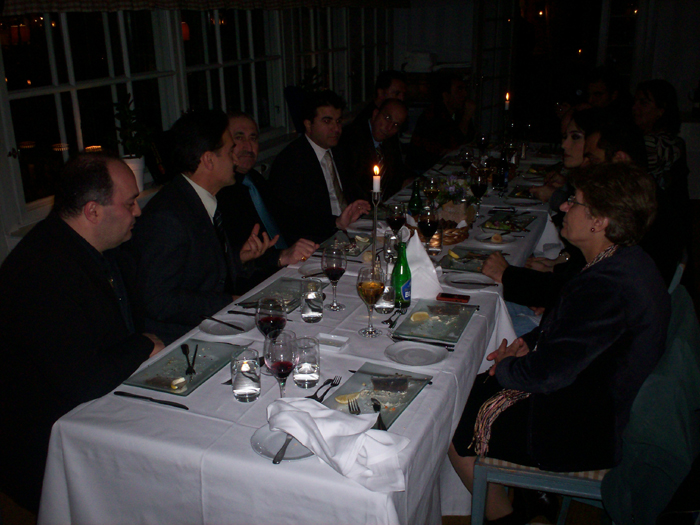 The honouring dinner for our great artist and musician Abeer Nehme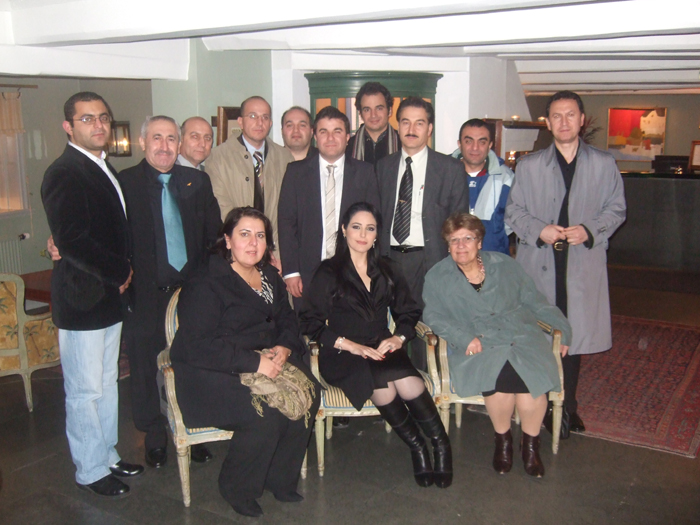 A picture to remember the great time we all had in the presence of Abeer Nehme
Thank you Abir Nehme for bringing the Cedars closer to us and us closer to heaven.
Always at the service of our Aramaic people,
The Aramean Democratic Organization in Sweden