ArDO: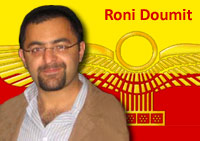 Cedars Revolution 2.0
Aramean Democratic Organisation
10 years after the historical Cedars Revolution that united the Christian Lebanese resistance with the Muslim Lebanese people against the Arab Syrian occupation and all armed forces outside the comand of the regular Lebanese army, it is now time for the Lebanese people to stand up and demand their rights.
In 2005, the traditional and untraditional parties split the country between 2 main coalitions, 8 and 14 of march coalitions. Those 2 held all aspects of the Lebanese life in their hands and started to share the state wealth leaving nothing to those who dont support any party.
Corruption continued in Lebanon until nothing was working normaly anymore.
1. The parliament members could not agree on a new election law and renewed their mandate.
2. The presidential seat has been empty for almost 2 years and no one seems to want any sollution.
3. The government includes all kind of parties that have no common goal and is therefore incapable to take any serious decisions.
4. Corruption is growing together with the state debt and a stealing mechanism in the whole body of the state apparatus.
5. Last but not least:
Garbage problem grew until there were no collecting at least so people are drowning in garbages.
All this together with the many files in the daily life that the Lebanese hope to solve but the politicians are unwilling to have sparked a flame in the streets of Beirut. The Lebanese people have had enough and are now demanding a real change in the hierarky of the state.
The change must come with the full implementation of UN resolution 1559 and making a federal system official instead of the confessional system of today.
La lal taifiye, Na3am lal federaliye