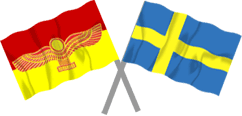 ArDO: The Rabieh of Aoun can never be Bkerke of the Maronites
071127
The former Lebanese general Michel Aoun is walking too far and crossing all lines of dignity. All this is happening after his return to Lebanon.
Aoun must understand that every word or action against Bkerke is an action against all the Christians of the Middle East. Bkerke represent the future visions of the Maronites and no one else can play that role, neither Aoun nor anyone else.
We call on Aoun to know this once and for all; you can't be a Christian leader when you want and a national secular Lebanese leader when you want.
In case you are a Christian leader you better know what the Patriarch seat means.
Enough taking the Free Patriotic Movement to a battlefield they should not be entering.
The people of the FPM are all nationalists and love Lebanon more than anything.
Love the Lebanon that is a part of the United Nations and the free world.
Stop supporting the Lebanon that is a marionette state to the Arab Syrian Republic.
Aramean Democratic Organization in Sweden