Stockholm dares to say it: Yes to Peace, No to terror in the Middle East
By: Roni Harb for ArDO Press
On Sunday the 20:s of August Stockholm was the place to be in if you want to stand up for the democratic development in the Middle East. The right wing alliance of Sweden was gathered and together with Jewish and Middle Eastern minorities held a manifestation to show support for the power calling for peace in the Middle East against the ones wanting to leave the Middle East hostage to fanatics and extremist Jihadist ideologies.
Gunnar Hökmark, Member of the European Parliament, the sign behind him say:
Yes for Peace, No to Terror in the Middle East
---
Ewa Björling, Member of Parliament for the Swedish Moderate Party
The manifestation had around 600 brave peace loving people calling for a big YES for Peace and screaming a big NO to Terror in the Middle East.
Among the attendants there were a few Lebanese activists taking the risks and getting to the Wallenberg square to demonstrate their will for a better change in Lebanon, a Lebanon strong in its civil society and official elected government over all kind of militias and war ideologists and state in the state dreamers.
3 Swedish parliament members and a few chairmen in different Swedish organizations spoke about the situation in the Middle East after the last foolish act by Hizbullah sparkling a new war between them and Israel.
Many Lebanese organizations were represented but for security reasons they choose to not be mentioned. After all, we have all heard what Hassan Nasrallah of Hezbollah have said again and again about what will happened to those working against them, I quote Hassan Nasrallah: ´´ we shall take the lives and souls and cutting the hands of those that are against us and want to disarm us´´. Now when Hezbollah have free hands after the Israelis stopped to bomb their places many in the Lebanese opposition against Hezbollah are afraid they could be the new targets of Hezbollah.
The Aramaic Democratic Organization stand behind this kind of activities arranged by free European and Middle Eastern people that want to see a free and democratic Middle East.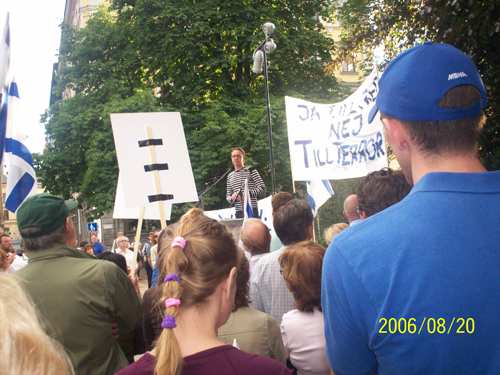 Fredrick Federley, head of the youth federation of the Center Party
---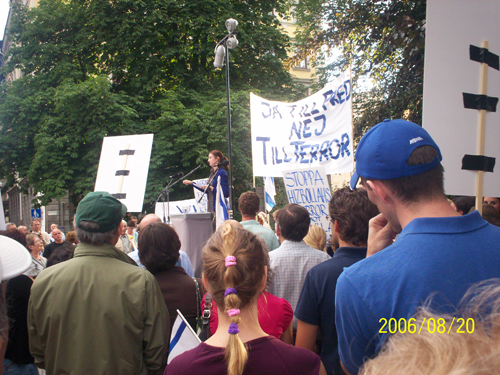 Birgitta Olsson , Member of Paliament for the Free Peoples Party
---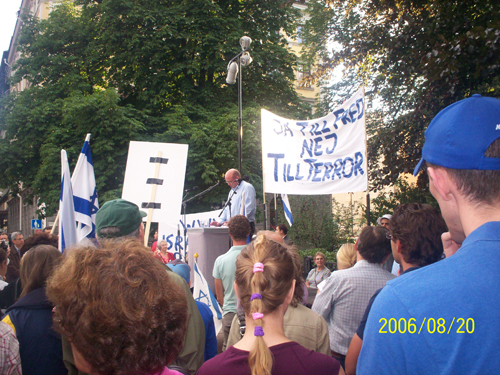 Torsten Lindström, Member of Parliament for the Christian Democratic Party
---
Fredrik Malm, Head of the liberal youth federation
---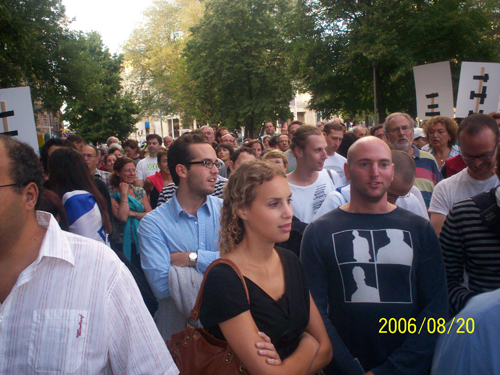 The Peace loving demonstrators
---
The Swedish police was kept busy stopping the left wing supporters together with Palestinians from adding some violence to the demonstration
By: Roni Harb for ArDO Press